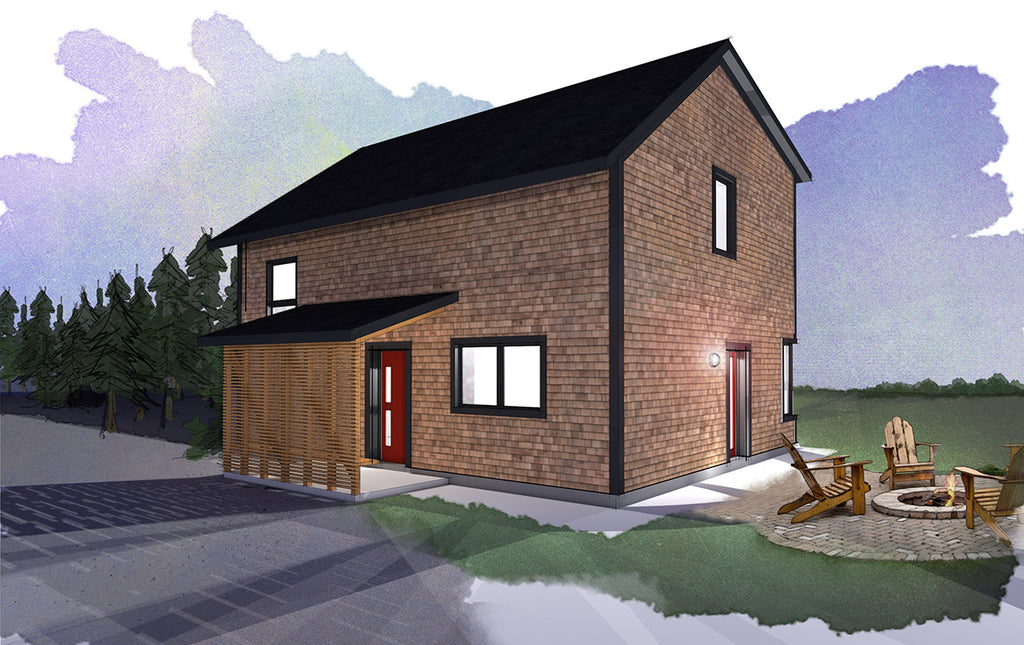 (click on large image for a slideshow)
My husband and I wanted to build a small retirement home in Nova Scotia. We researched extensively and decided a passive home was the best fit for us. We contacted Passive Design Solutions and never looked back. Natalie and her team were amazing throughout the entire planning and building process. Extremely knowledgeable and professional. What impressed us the most was how well they listened to what type of house we wanted. They presented us with a custom design that exceeded our expectations. We are now happily living in our new very energy efficient home. The added bonus is that the house construction stayed within our budget without compromising the vision thanks to the team at PDS."~ Sandra MacDougall
East Bay is a compact, modern take on the traditional storey-and-a-half house.
Two bedroom plus den East Bay Passive House features:
An asymmetrical gable roof that opens to the south backyard.
An open concept with wide south-oriented living room.
A small den/office/guest room and full bathroom on the main floor.
A primary bedroom and second bedroom upstairs that share a large full bathroom.
Energy Usage & Savings
Built to National Building Code (Canada):
Energy Usage - 22,276 kWhrs/year
Annual Cost - $3,341/year
Built to Passive House (PHIUS)
Energy Usage - 6,552 kWhrs/year
Annual Cost - $983/year
Enjoy a $2,358* savings on your annual energy costs.
*Cost estimate is based on an assumed 15 cent per kWhr price

Need help choosing a plan that is right for you -
Book a free project consult.